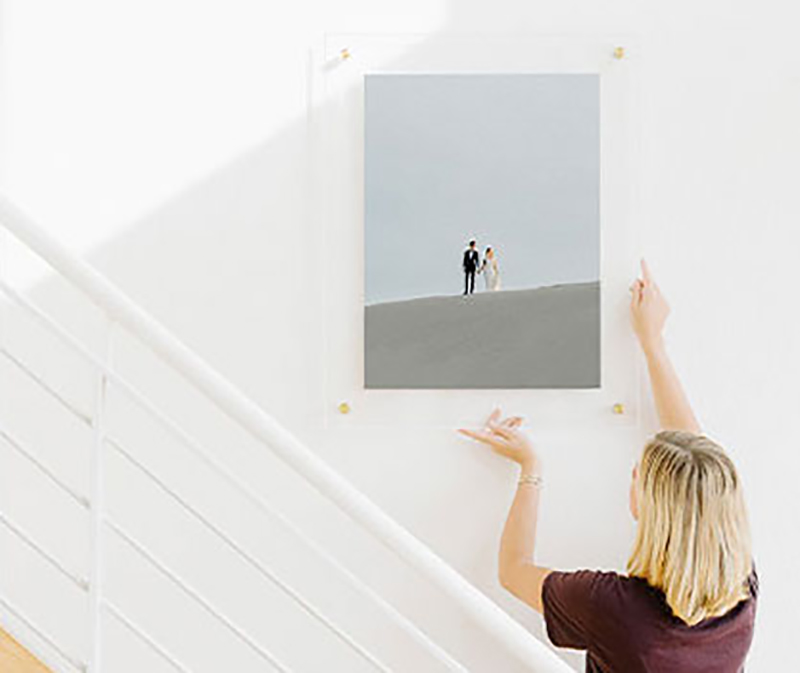 WHICH IS RIGHT FOR YOU?
Let our experts guide you on how you can frame your photos and create a unique, personalised decor style that reflects who you are and allows you to live surrounded by your life's best moments.
Our top quality photographic, canvas and giclée, (or fine art prints) are available in a wide range of beautiful custom made frames. Read on for inspiration and advice on how to get the most out of your framed photos.
---
Wooden Frame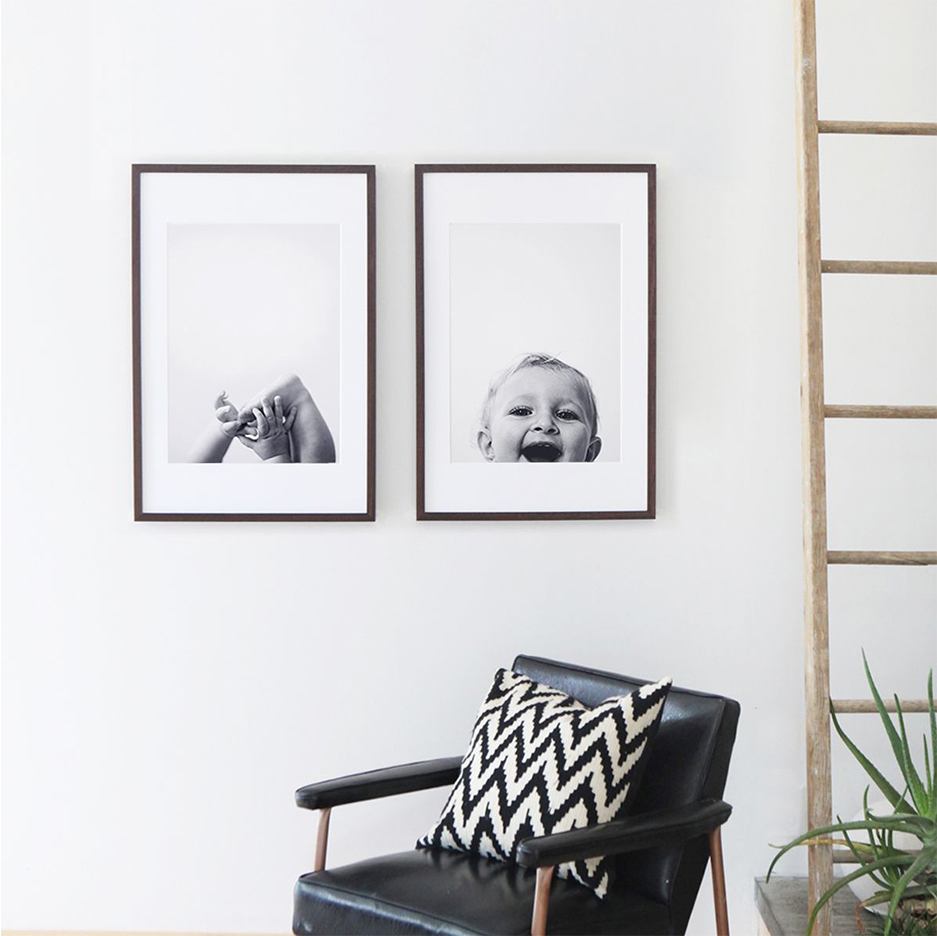 WHY WE LOVE IT
Our wooden frames provide a simple and elegant frame for your photo print and it is available in 4 colours, black, white, natural and beech. The photo is surrounded by a professional white mount board creating a framed print fit for an art gallery. Photographic prints are available in 6 sizes and Giclée prints (matt art paper) are available in 4 sizes.
DISPLAY TIPS
Create a visual impact with large format prints or build a visual storyboard with your photos. The natural colours of the frames ensure that they will compliment any décor style and palette. You can always refresh your space with new prints in the same frame and enjoy living with your photos.
---
Modern Frame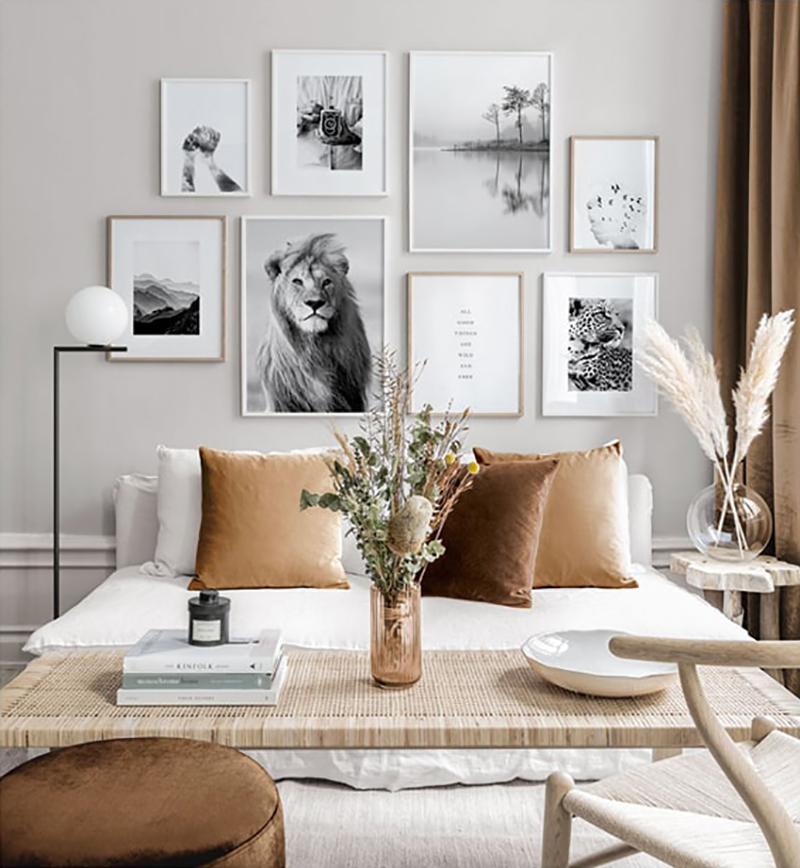 WHY WE LOVE IT
Our modern frames are available in four sizes and four colours, black, white, grey and natural. The image is printed on a genuine photographic paper and framed with a professional mounting board. These framed prints are ready to hang masterpieces and will take your walls to the next level.
DISPLAY TIPS
Let your walls tell a story. Mix and match sizes and frame colours, this range is design to blend with any setting or décor style as it has an elegant simplicity. Try different sizes and collage-like layouts on your walls combing black and white prints with text captions such as poetry or famous quotes, this is how you create a unique and special décor style.
---
Classic Frame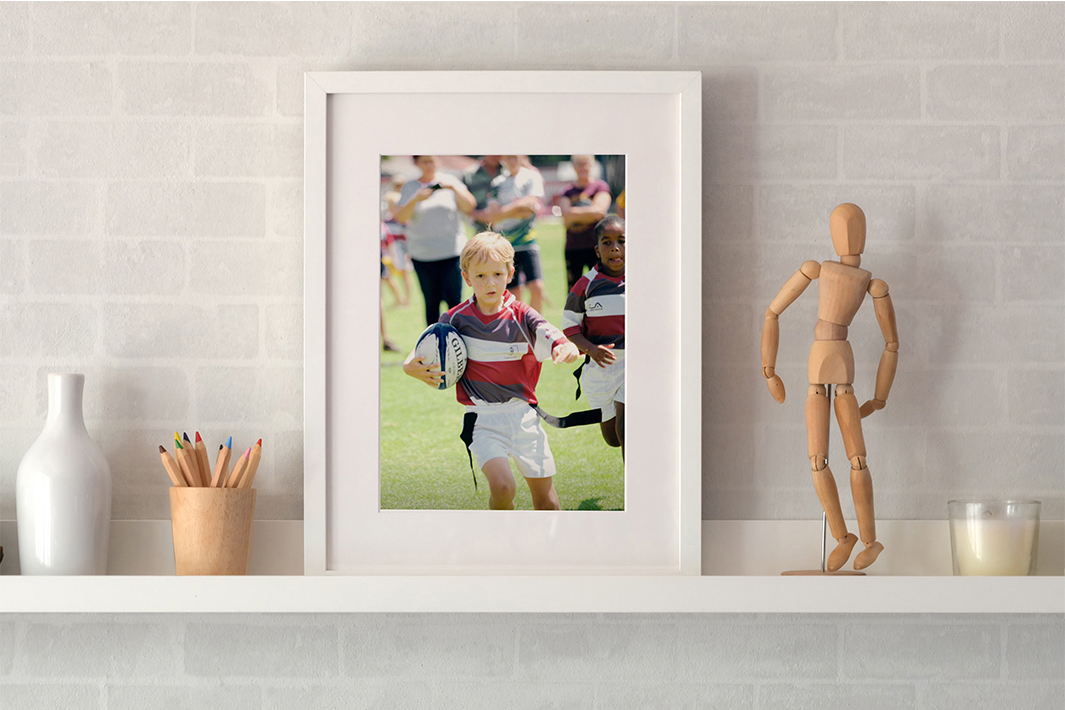 WHY WE LOVE IT
Our classic frames are available in 4 sizes and three colours, white, black and metallic. The genuine photographic print or fine art giclée paper is framed by a white mounting board before framing for that gallery-like quality. These framed prints are affordable and you can easily change the print to refresh your spaces and relive your happiest moments. These frames are also a great gift idea, ideal for any occasion.
DISPLAY TIPS
These framed prints are ideal for creating detail. On a shelf, wall or coffee table classic framed prints personalize your décor and are great conversation starters, 'when we……". You can mix and match sizes and colours to create your own visual memory of an event with a collection of classic framed prints.
---
Framed Canvas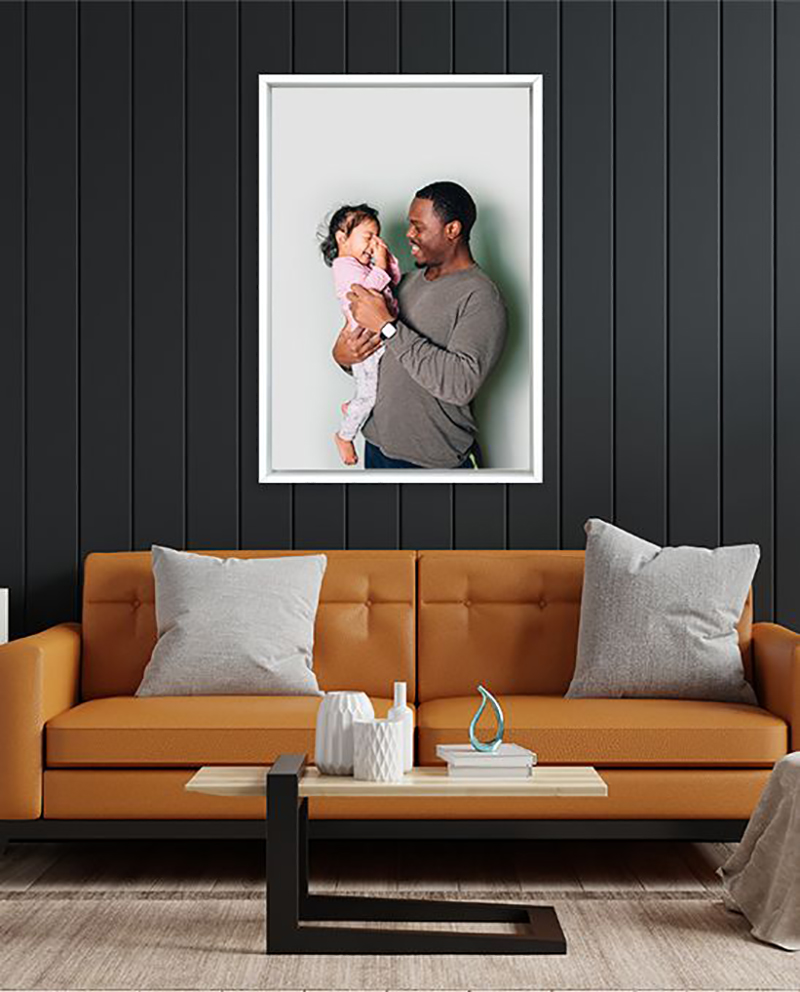 WHY WE LOVE IT
Our framed canvas is a top-quality classic from Qphoto, available in eight sizes, two canvas types and two frame colours, this is one of our best sellers. The canvas is printed with 8 ink technology for a depth of colour and then sprayed with uv varnish that protects your canvas from fade and allows you to wipe it with a damp cloth. Our canvases are the best in the industry. Framing a canvas gives it the appearance of floating on the wall – gorgeous!
DISPLAY TIPS
Play with colour. The floating effect of the framed canvas and the vibrant, gallery-quality printed image can create a beautiful effect on your walls. The frame colours of black, white and natural will match any décor style and colour scheme. Select an image that compliments the colours of your décor scheme to create a stylish and uniquely personal décor style.
---
Floating Frame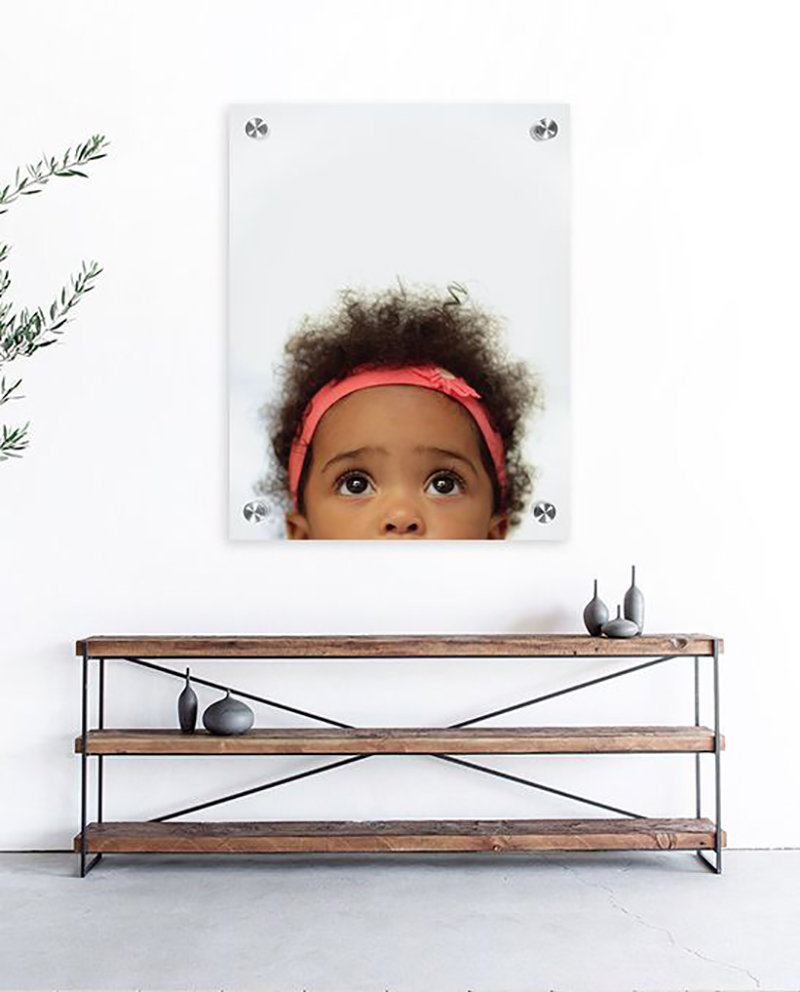 WHY WE LOVE IT
The floating frame is a modern classic. The name says it all – the picture literally floats off the wall. We mount a Giclée prints print to a frame – grade acrylic board that provides uv protection to the print so that it does not fade. The corners are threaded with chrome bolts that create a ready to hang masterpiece.
DISPLAY TIPS
Less is more. These frames create a strong impact on any wall and are suited to images with clear lines such as portraits, (animal or human) and landscapes. Floating frames look good in offices or homes that have a modern décor style and are well suited to one large image floating o the wall.
---
Box Frame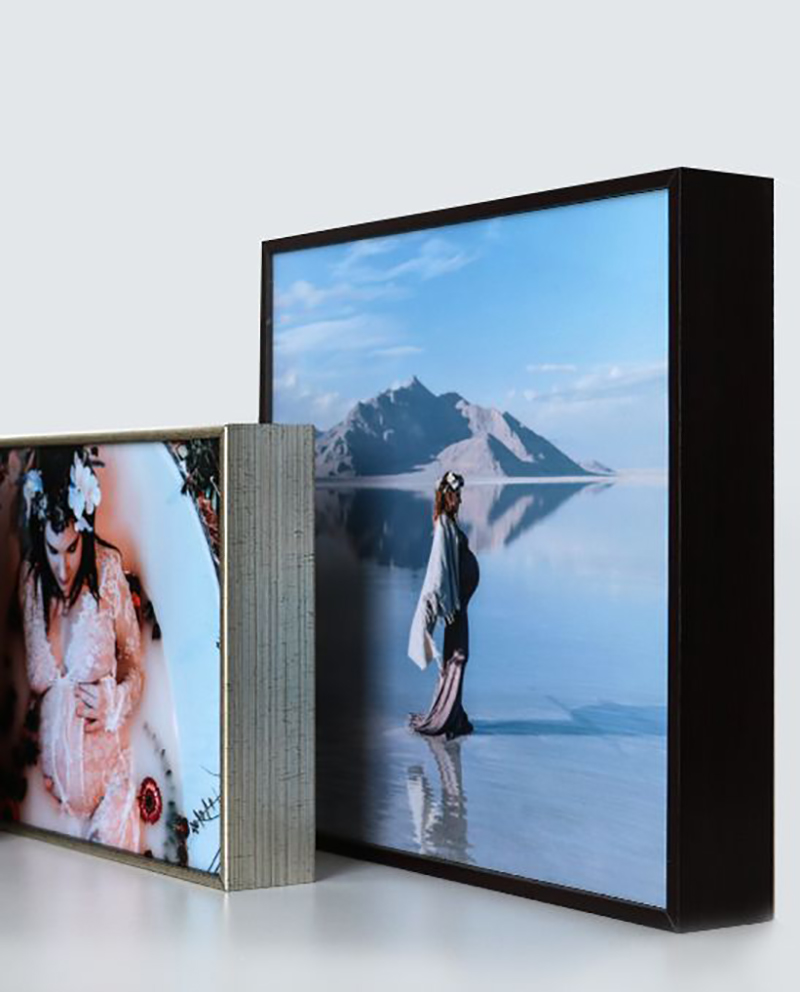 WHY WE LOVE IT
Our box frames take your print to the next level, literally. The genuine photographic print, available in matt or velvet paper and nine sizes, is mounted to a box available in 4 colours, black, brown, white or brushed silver. The box framed print stands proud of the wall for that "pop out" effect.
DISPLAY TIPS
Select the box frame colour that compliments the colours in your photo and brings out the colours of an image. Box frames are ideal for creating collage-like layouts or the classic grid. The box colours match any colour scheme and are timeless so they will not date. These frames are ideal for passages, stair wells or lounge areas. Box frames can also create a strong visual impact in receptions and boardrooms.