Because there are few things better than seeing the photos you love on a daily basis, we created a line of personalized calendars to serve as a standing reminder of what truly matters. Our collection started simple and has grown over the years to cater to a variety of aesthetics — giving you a range of options to gift or bring home for yourself. Follow along below as we highlight all of the most-loved features of our calendars, laying out the little details that add an elevated touch.

Your wall has met its (best) match! The first hanging calendar of its kind, our Hanging Calendar was made to stand out in any space. With its portrait orientation and streamlined design, it's a personalized and unique display that breathes new life into the room. With editable text boxes to mark the dates that matter to you, plus lots of space below days to write in important notes or ideas, the customization options are endless.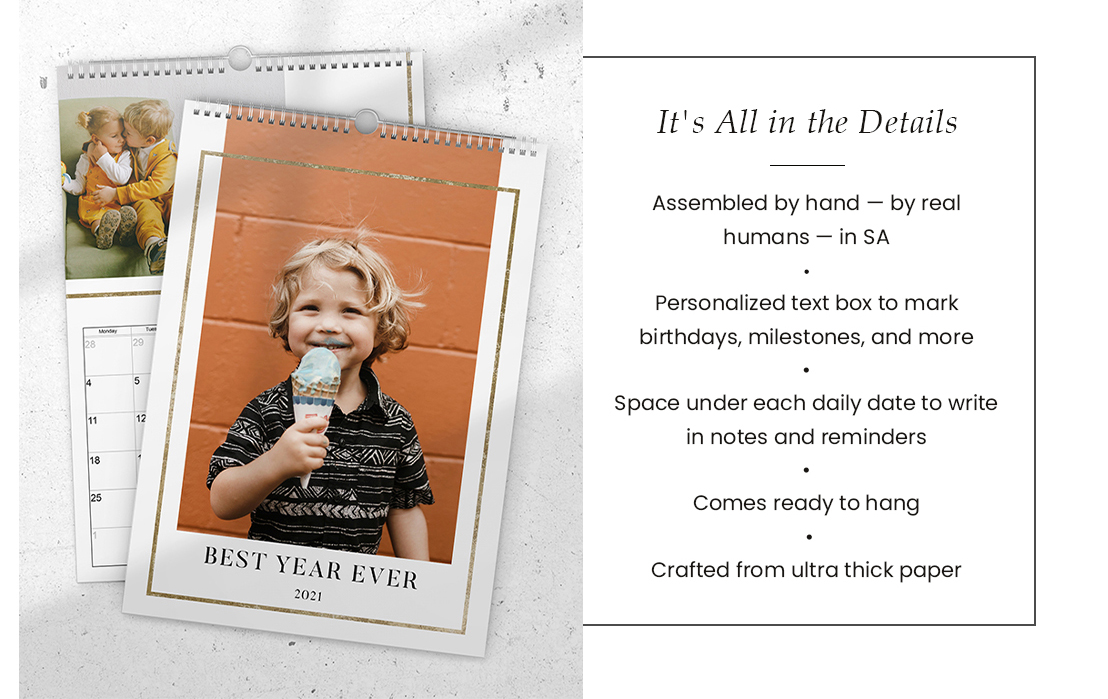 This calendar is perfect for the home-design enthusiast who is looking for a wall display that contains their photos, and it's also a great gift that can be personalized for almost anyone in life. We love giving them to new families, grandparents, coworkers, and more.

An original in our collection, the Magnet Calendar was born at the crossroads of photo decor and function. This calendar comes in a variety of different designs and will not get ruined by sticky fingers or get lost. Best of all, it's beyond easy to customize, making it one of the simplest and most universally-appealing gifts.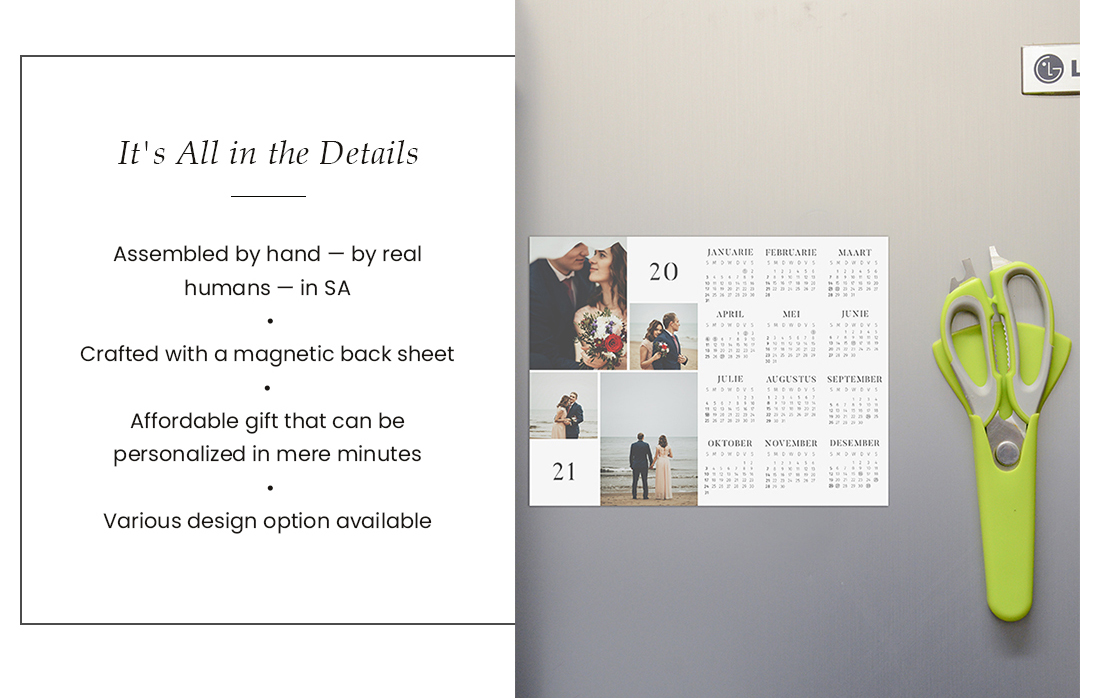 Made to complement anyfridge or display space, the Magnet Calendar is the quintessential gift that's great to give for any occasion. It's ideal for anniversary gifts, birthday presents, recurring yearly gifts, bachelorette gifts, and of course — it makes for an impeccable last minute gift.

Designed with modern materials and elegant touches, the Desktop Calendar is the perfect accompaniment to any desk- a bestseller and beloved fan-favorite.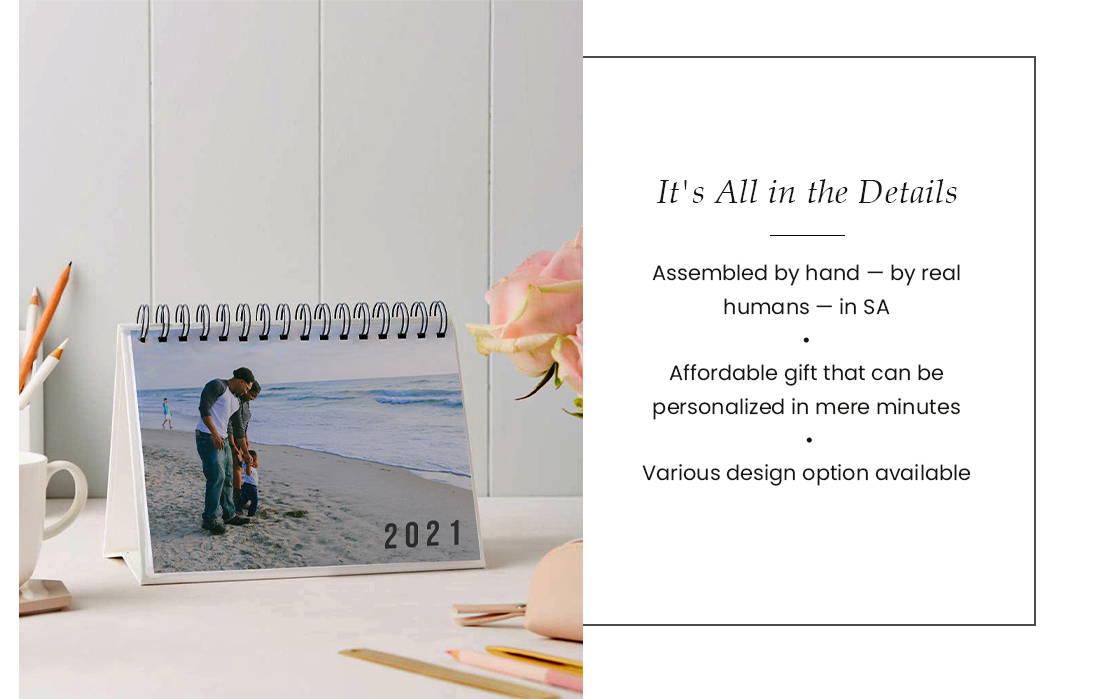 This calendar is a bestseller for a reason: it's the perfect gift for anniversaries, birthdays, housewarmings, bachelorettes, Mother's Day, Father's Day, and more (the options really are endless!). It makes for an artful addition to any desk, shelf, or display space.

Because everything is better when it's bigger! Add your most-loved photos for a sleek monthly display. This statement piece was designed to stand alone and feels sturdy and premium to the touch. And similar to all of our other calendars, it's easy to create and can be brought to life with only a handful of photos — making it a beautifully unique desk display.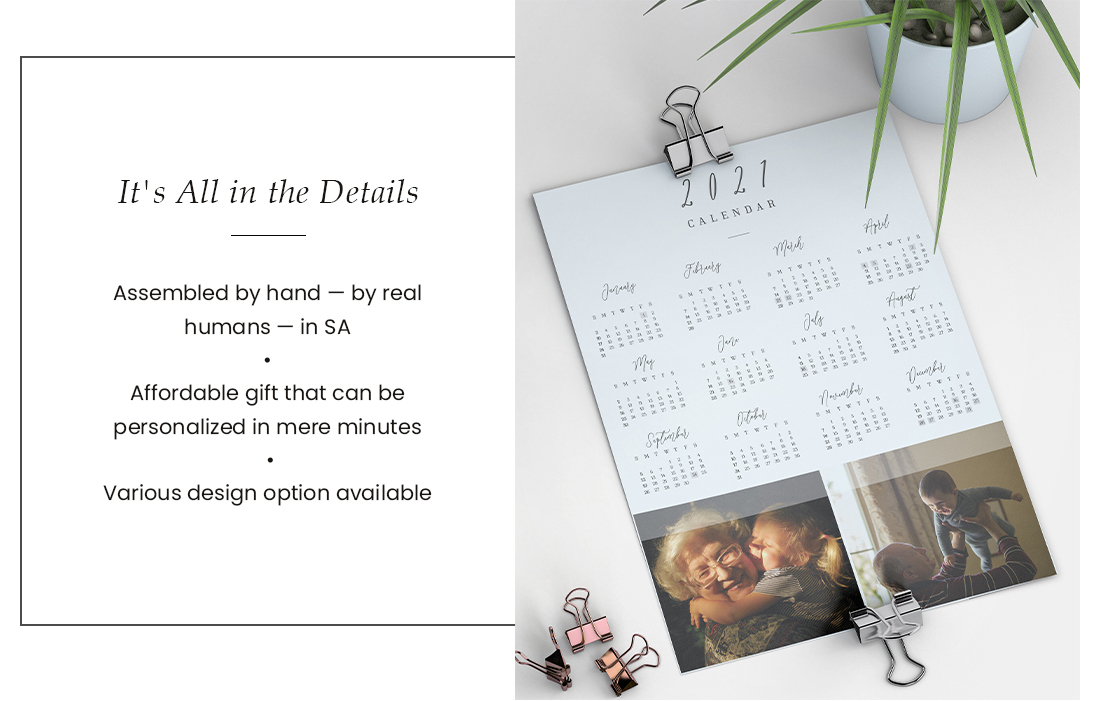 With a feminine and bespoke look, this calendar was made to shine in all sorts of gifting occasions: birthdays, baby showers, anniversaries, Mother's Day, and more. Trust us — it's the kind of gift that the recipient won't soon forget.