How many photos do you think you will take in a year?
Well, in 2017 it was estimated 3,650 photos were taken per person– and let's face it, not all of those photos are of the best quality.
So, what do you do with your best picks?
It is an easy answer: you should print them.
Printing may seem like a hassle, but the process is, on the contrary, quite simple, affordable and worth it.
Best of all, the end result will be a personalised printed product that you can either pass on as a gift to a loved one or treasure yourself – regardless of what you choose to do, you will have a final product that corries your personal touch with a special memory connected to it.
Not sold on the idea yet? Here are 7 great reasons why you should print your photos: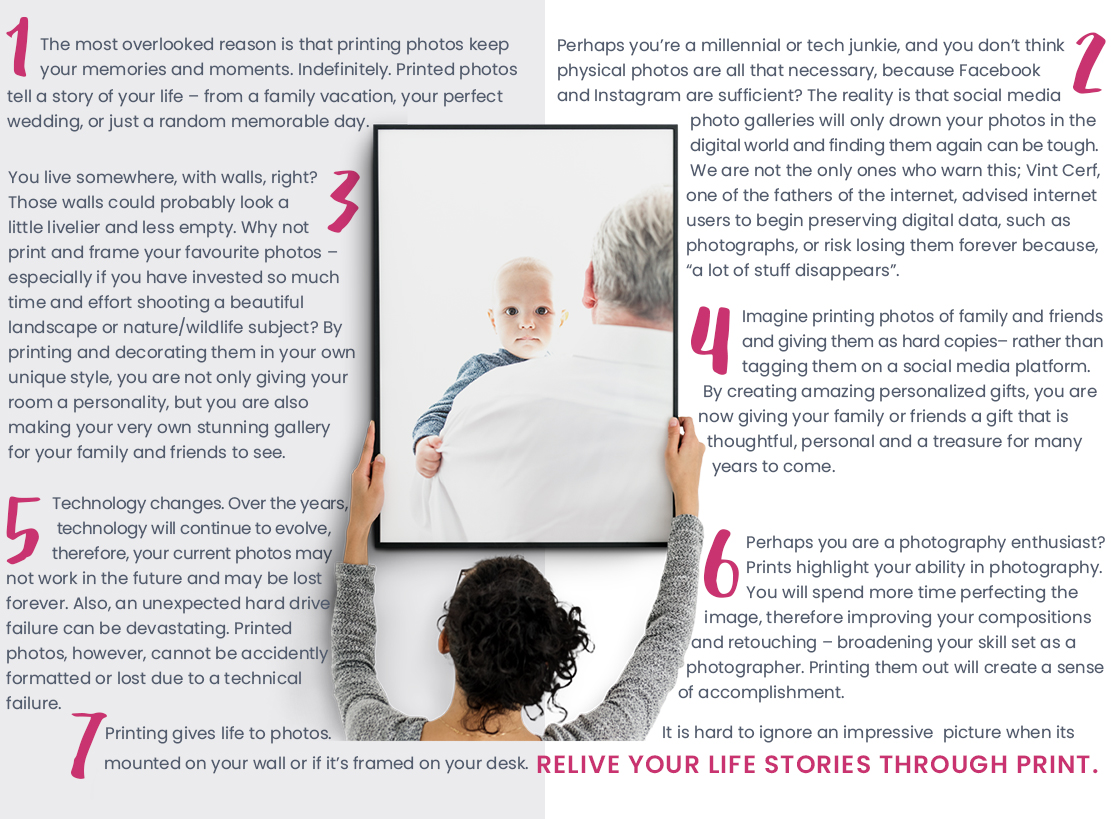 If you've made it this far, you might be considering printing your beautiful photos.
But, where do you even start?
We bet you have a million questions, especially if this is your first-time printing.
Questions about which lab to use, preparing your images and what type of print you are going to choose may be coming to mind.
A simple answer to the first question of who to use: Q-Photo. Thank you, next.
To answer the rest of your questions, continue reading
Here are the different types of printing and printing products available:

WHAT IS A PHOTO BOOK?
A Photo Book or 'Coffee Table Book' is a photo album you create online. Choose a size, paper type, and beautiful design, then upload your pictures and customize each page with backgrounds, text, images and frames of your choice.
At Q-Photo we have a collection of ready-made books to choose from. Visit our website, head over to Photo Books and pick the perfect book to tell your story.
WHY CHOOSE A PHOTO BOOK?
They are an ideal way to share your life's stories: from weddings, baby's milestones or a travel adventure. There's no better way to share and remember life's magical moments than a photo book! They are so easy to create – it only takes a couple of minutes – and you can design and personalise them however you please. They would make the perfect gift for just about anyone and be a lovely addition to your coffee table.

Sorry in advance if this section becomes a bit technical.
WHAT IS PHOTOGRAPHIC PRINTING?
Photographic printing is the process of producing a final image on paper for viewing, using chemically sensitized paper. The paper is exposed to a photographic negative, a positive transparency (or slide), or a digital image file projected using an enlarger or digital exposure unit. These prints are genuine silver halide and can be ordered to be printed on either velvet, matt or gloss paper.
WHY CHOOSE PHOTOGRAPHIC PRINTING?
Each photo you take represents a moment in time which you wanted to capture, a place or person that you feel attached to, or a simply an image which means something particularly special to you. All too often these photographs are forgotten, but printing photos is a way of bringing them back to life again. Also, there are various types of photographic prints to choose from:
Photographic Prints
Photographic enlargements
Photographic Cluster Prints
Picture Folios
Memory Box Collection
Framed Prints

WHAT IS FINE ART PRINT?
A Fine Art Print is a term used to describe an extremely high-quality print. They are considered collections of prints bound together and are generally printed in short runs to very high production standards.
WHY CHOOSE FINE ART PRINT?
It is an image made with prior intention of creating a print (art book) as the final form of the image. They are created solely to fulfil your creative vision. At Q-Photo we offer various types of Fine Art Prints:
Retro Prints
Fine Art Prints
Flyers
Poster Prints

WHAT IS A CANVAS PRINT?
A Canvas Print is the result of an image printed onto canvas which is stretched, or gallery-wrapped, onto a frame and displayed. Canvas prints are often used in interior design, with stock images, or customized with personal photographs.
WHY CHOOSE CANVAS PRINTING?
Canvas printing allows you to keep your memories for generations to come, due to the longevity and durability of the canvas' material. This kind of print gives a professional, high-quality look to any image and is a great way to tie a room together.


Canvas prints are a gorgeous method of creating art. While it's very common to see framed photographs hanging on walls, sitting on tables, canvas prints are still unusual enough that they're more eye-catching and memorable than their digital counterparts. Depending on the detail and the quality of the canvas, the prints on them will spark the interests of both enthusiast and leisure photographers, even towards ordinary photos.

If you have photos or artwork that has a lot of "noise", like graininess and texture, canvas prints can improve the appearance. Since canvas printings do not have a high proportion of gloss sheen, you as the viewer will solely focus on the detail in the photo and will not be distracted. While the noise detail can be enhanced on a print photo, it can be softened thanks to the texture of canvas prints, especially if you use a matte/non-gloss finish. Canvas prints also have the advantage of literally standing out, as opposed to traditional photos that appear flat against a wall.

Canvas prints and gallery wraps allow you to display your best work while giving it the quality of a gorgeous painting. This means an important family photo can be turned into something that you can pass down from generation to generation, keeping historic moments in your family for your children, and your children's children. If you want something to last long, for the purpose of creating a family heirloom, durability is an important factor to consider. The most appealing thing about printing on canvas is that you have the chance to immortalize your photos for generations to come. Like a canvas work of art anywhere that has survived the ages, your printing photos are designed to last up to 100 years, which is a lot more than other prints can say for themselves.

The great thing about getting something printed on canvas is that you can edit your photos to your exact specifications before you send them in. This way, you know that when you get the final canvas print, it is going to look incredible. Canvas printing allows you to also play around with size variations. You can select from a range of sizes, and you can even get odd sized canvasses printed to create something truly unique. If that is not enough, you can split an image across more than one canvas.


All canvas prints are stretched, in order to be displayed. A stretched canvas print is a canvas print that has been stretched over a timber frame and is manufactured to be ready to hang straight on the wall. It is 100% archival quality and made from cotton material.
WHY CHOOSE A STRETCHED CANVAS?
When printing is done, chances are lower that the paint will get damaged, compared to if you decide to do it yourself or find a cheaper stretcher. Stretched prints are overall good quality – stretched prints have more perfection since images are brighter and sharper. They are also better than, for example rolled prints, with regards to sizes and dimensions. Stretched canvas prints are more durable and less likely to be vulnerable to dust or damages.

A loose canvas or "rolled canvas" is a normal print before it is stretched over a "stretcher bar" – a thin wooden frame, to which the canvas is stapled to. Then, it may be framed or just left as is with the stretcher bar, a basic exhibition-like appearance.
WHY CHOOSE A LOOSE CANVAS?
It is a lot cheaper. You receive your artwork in the form of a roll and take care of the stretching and framing yourself, which means that if you are a meticulous individual, a loose canvas will be just what you need.

Creating a cluster canvas essentially means a single image is digitally divided over multiple panels that can vary in size and shape, and then those panels are hung in cluster formation on the wall.
WHY CHOOSE A CLUSTER CANVAS?
It is a great way to play around with creativity and create a unique piece of wall art that adds pop to any room in your home.

Instead of printing one large print, a single image is divided over multiple panels, with each section being printed on a separate panel; and then hung next to each other.
WHY CHOOSE A SPLIT CANVAS?
It is perfect for panoramic photos, scenic landscapes, seascapes, wildlife, nature and abstract imagery – and just a unique and creative way of decorating your home.

A Framed canvas is when a quality canvas is stretched over a timber frame, creating a beautiful artistic creation for your wall. Timber frames are usually made with extra bracing to ensure that the frame maintains its shape over time.
WHY CHOOSE A FRAMED CANVAS?
A framed canvas looks sleek and elegant, as a normal framed photograph would look – but with that extra artistic touch.

Want a lovely and innovative way to display your precious memories? Try hexagon-shaped Honeycomb Canvas prints. With this print you can connect up to ten photo canvases using collage clips to create a design that is uniquely yours. You can combine these shapes in any way you choose and hang them with your distinct design touch.
WHY CHOOSE A HONEYCOMB CANVAS?
With this option, you can be creative with your size selection, depending on the room you want to hang your canvas in. You can hang one hexagon shaped canvas in a small area or combine several for a personalized photo canvas display for larger areas. Honeycomb canvas prints are as versatile as they are beautiful!

What are Photo Gifts?
These are items you can purchase, such as clothing, home décor, personal accessories, novelty gifts and packaging, which you can then modify and customize using your own unique designs.
WHY CHOOSE PHOTO GIFTS?
There literally won't be a single gift out there as unique and special as the one you create for your loved one. These creations are a thoughtful way of showing your appreciation for someone, because they are personal and imaginative – with beautiful images and designs to choose from – there really is something for everyone. Cherish the smiles – perhaps joyful tears – and hand a personalised gift to a loved one.

Once you are happy with the print you've chosen, you can start preparing your image files to be sent to the Q-Photo lab online.
This is an important step in the process, to ensure that your images are developed correctly, just the way you want it.
Quality is key. Add a quality picture and you will get a quality product.
It is as simple as that.
Here are some simple guidelines to ensure you do everything right from your side, before your images go for printing:
PREPARING YOUR IMAGES
You can create and order products online with images directly from your phone, tablet, computer or social media platforms.
For large format prints and photo books it is recommended that you create a folder on your computer for each project that you are going to create products from and keep the images in that folder. For photo book projects, number the files and store them in sequential order
FORMATTING AND SIZE
JPG or PNG format. PNGs should be 8-bit and non-interlaced.
SRGB colour (no CMYK, Grayscale, and Adobe 1998 RGB).
150 to 300 DPI (dots per inch or pixels per inch). For instance, a 5x7 image frame should be filled with an image that is at least 750x1050 pixels and no greater than 1500 to 2100 pixels.
If that all sounded too technical, don't worry, simply call our friendly call centre should you get stuck.
SCANNING IMAGES
When scanning your images, ensure they are free of any dust or dirt, otherwise these imperfections will turn up in the final product. You may also need to crop your photos after scanning to ensure there are no white edges.
For those who have the computer resources and technical know-how, it would be beneficial to scan all your photos at a high dpi value (300-600 dpi). This will allow you more freedom when deciding where and how to display photos in your layout.
It is also suggested that you do not scan your images higher than 600 dpi, simply because it will slow your computer down as the file will become very large. This may also cause file processing issues, and the software used won't be able to process images with a file size larger than 15MB.
IMAGE RESOLUTION
Firstly, you should know what DPI resolution is:
In printing, DPI (dots per inch) refers to the output resolution of a printer or imagesetter. It is physical dot density of an image when it is reproduced as areal physical entity, for example printed onto paper.
We know it all sounds very technical.
Ideally, pictures used should be 300 dpi. Most digital cameras won't allow pictures to be taken at 300 dpi, although some will offer a higher quality image through a setting on the camera such as "High" or "Fine".
If you received photos via email from another person, it is possible they have sent you a lower resolution version, which means that you might be able to get the original photos that are of greater size and quality. Similarly, if you have pre-processed your photos to a smaller size, it would be worth sourcing the original photos directly from your camera.
Remember, neither software nor print process will add any more detail to your pictures than what is already there, so you should take notice of this when using images that are of lower quality.
What if I see a "low quality" warning?
It means that the quality of the printed product will be compromised as the image resolution is too low for printing purposes. You will need to either reduce the print size or source the original image if you are using images from social media.
LAYOUT
The design layout of your product can be done directly online, where you will be able to add photos to template designs, create a professional photo book in minutes and add a wide range of free professionally designed layouts available for quick product creation. If you already know what you are doing, and you have good computer design skills, you can use the Online Editor to start from scratch and edit the template layouts and background to your own specifications.
It is 100% up to your creativity and imagination.
The Final Product
You have now gone through all the effort of ordering your amazing products and we hope you are already beaming with anticipation.
As you wait for your beautiful creations to be made, remember that the arrival date will depend on how long it takes to make it and what shipping method you have chosen to use, but the rule-of-thumb is between 5-7 working days.
At the end of the process you will receive your unique, custom creations that were designed and perfected, especially for you. From there on, what you do with them is up to you – as long as it leaves you with special memories and a smile on your face.
(If you are a new customer, we welcome you to a quality experience. Be the first to learn about promotions, free tips, new arrivals and much more by signing up to our newsletter and create your own account to receive many delightful benefits.)
We hope this guide has, and will, assist you in creating further beautiful personalised print products for years to come.