Q-Photo we enjoy creating world class printed canvas of the highest quality possible, after all the "Q" in our name stands for quality. Creating value and adhering to worldwide industry standards has been the benchmark of Q-Photo since 1984, which is why we offer a money-back quality guarantee, the first and only company to do so in the printing industry.
So what makes our printed canvas the best in South Africa ?
Best Customer Service – award winning service
You can place your order directly on our website and see your canvas modeled in 3-D before you place your order, a first in South Africa! It's so easy - you can order directly from your smart phone.
Our world-class software will give you a resolution warning so that your canvas will not be printed if the image quality is not sufficient.
Our friendly call center is always available to help you with when placing your order and we offer a free order progress tracking service, (more info) You can trust our quality and rest assured that your beautiful printed canvas will be in your hands within 5 to 7 working days of placing your order.
If your order value is over R 500 Q-Photo delivers it anywhere in South Africa for free, alternatively delivery to your doorstep is only charged at R95 ! (more info) Q-Photo is an award-winning printing company (awards) and we will go the last mile to ensure that our customers are delighted when they receive their printed canvases, your happiness is our number one priority.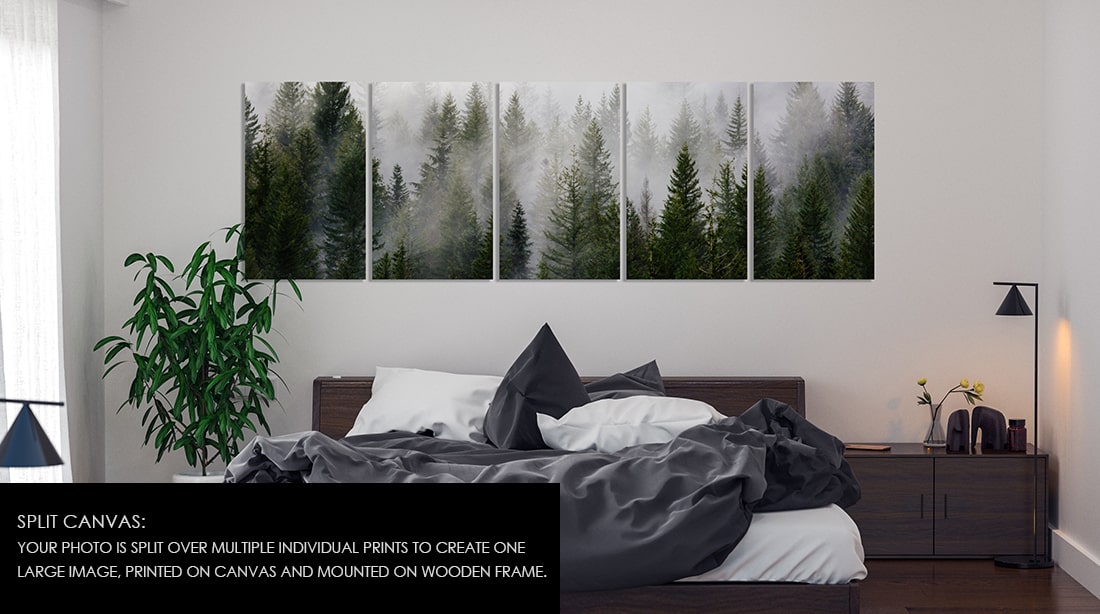 Value for money – best quality for less
We print on a cotton-blended canvas with museum-like quality, (Canvas Lite) or we offer printing on a 100 % cotton canvas (Canvas Luxury) for fine art gallery quality. Our large format printers are designed for professional applications and can produce highly detailed canvas prints as they use '8-ink' technology which provides a depth of colour and vibrancy which is hard to match. Our large format printers can print up to 1.3 meters wide by 15 meters in length.
At Q-Photo all our printed canvasses are sprayed with protective coating to preserve the colour and vibrancy so that your canvas glows with colour for years to come. Our protective coating prevents dust build up on your printed canvas and allows you to wipe the surface with a damp cloth. We specifically spray our printed canvases to achieve a smooth flawless finish as painting a protective coating leaves brush marks.
Q-Photo's printed canvasses are mounted onto a perfectly balanced wooden frame which will not warp over time. At Q-Photo we stretch our canvas onto the perfectly aligned frame using a lazer machine which creates perfectly finished and stretched canvases which are 100 % aligned and ready to hang.
Our canvas stretching machine is imported from Italy and it is the only one in the country. So, you can rest assured that the quality of a Q-Photo printed and stretched canvas is unrivalled in South Africa.
Sign up for our newsletters and get amazing printed canvas deals and free décor inspiration and ideas from the experts. (sign me up)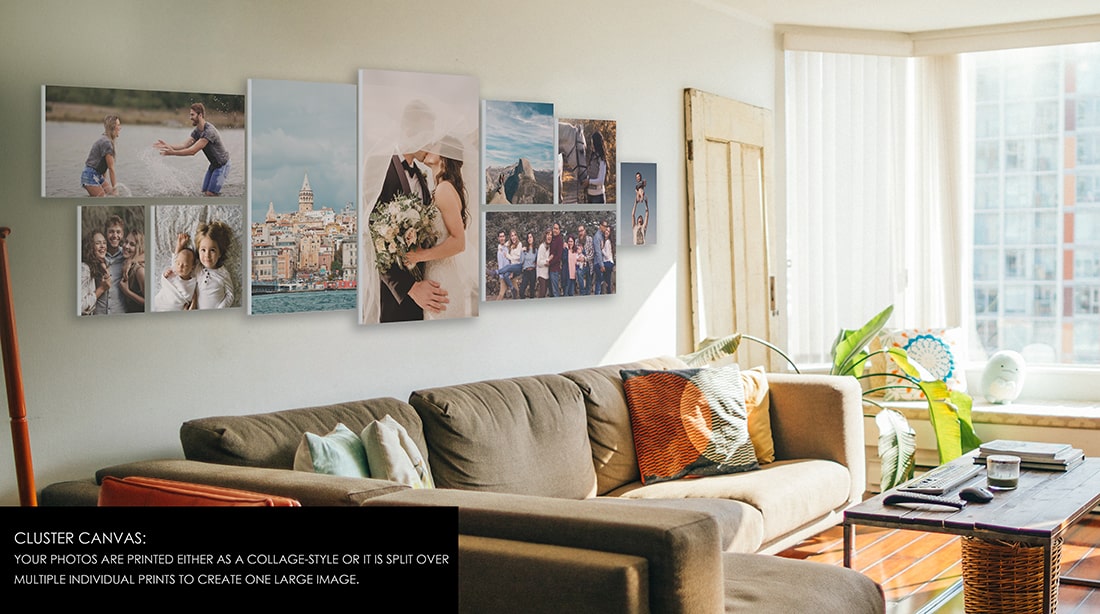 Wide variety of options – create your own style
At Q-Photo we offer single canvases, collage bundles, (splits and clusters) and hexagon canvases. You can print your own design or select one of our free templates created by professional graphic designers. We offer two types of stretches, "flat stretch" which is a canvas stretched onto a frame that is 2cm in thickness or a "standard stretch" which is a canvas stretched onto a frame that is 4.5cm thick.
You can also select from different edging – a plain white or black edge or we can wrap the entire image around the frame. Q-Photo also offers a canvas framing service with a selection of three colours, black, white and natural. With so many options you can create your own unique décor style and let your walls do the talking.
Click here to order yours today!