As an employee of Q-Photo, I really love the products we have on offer, and have always wanted to create my very own photo book. The unfortunate reality is that after a hectic day at the office, tackling rush hour traffic, and sorting dinner and everything else; there's little to no creativity or energy left to take on a daunting photo book project. Just thinking about starting it feels like I'm about to take on Mt. Everest! This is especially true if you've never made a photo book before.
So, you can imagine my surprise and utter delight when I heard that we were launching the My First Photo Book product. The idea behind this initiative is to keep things so simple that a complete photo book noob like myself can do it within 2 minutes flat! All I needed was 21 images and a few minutes, and I could have my first photo book done and dusted. Right. Challenge accepted!
First things first. I needed photos! As luck would have it, I took the kids on a camping trip to St. Lucia recently, so I had a lot I could choose from.
Keep in mind that I snapped all photos of the trip on my cell phone, so you don't need super duper pro images to get going.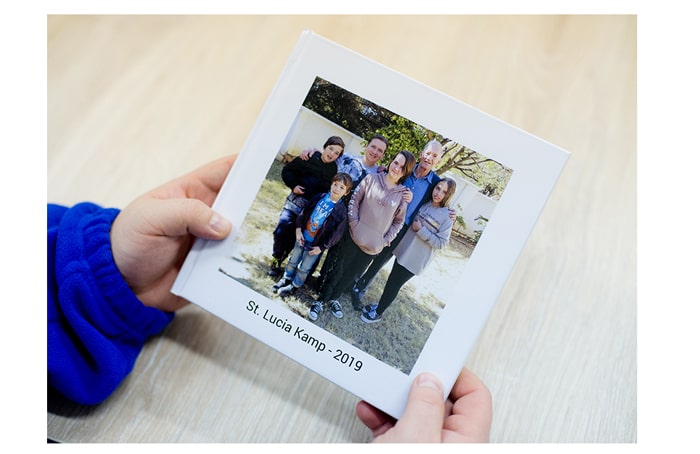 Okay, I'm a little more CDO (that's OCD in alphabetical order) than the average Joe, so for the sake of total transparency, it took me a smidge longer than 2 minutes to complete my book. But, oh, what a breeze it was to make it! I simply uploaded my photos, added them to the pages, and presto! I was offered a choice between a hard- or soft cover, and decided to go with hard. Just for the record, the hard cover book allows you to add a title on the spine of the book, so it's easier to find the right one on the shelf once you have a few of them.
A few days later, I collected my book, and beamed with pride as I held my creation in my hands. I still couldn't believe how easy it was. I remember thinking to myself that men now no longer had an excuse not to make photo books, and that it would make perfect gifts for their loved ones.
I'm super excited to get started on my next book, so I've made myself some coffee, and I'm already gathering my twenty-one Cape Town 2018 photos. Because I've been through the process once before already, I'm confident that this time, my new book will probably take less than 2 minutes to make.
So don't wait! It's so simple and easy that by the time you've finished reading this article, your first book could already have been in production…
Click here to order yours today!