Dads are there when you're learning to ride your first bicycle. They're there to help when the homework gets hard. They're there on your wedding day to be your rock. They're even there to help babysit – a job he secretly loves.
He's always there when you need him without a fuss nor fanfare – and Father's Day is a wonderful opportunity to show your appreciation.
So sure, take him out to lunch like you usually do, but this year, why not surprise him with a gift from the heart?
We know dads are often hard to buy for, so here are some awesome Father's Day gift ideas for Dads of all ages.

Personalised printing is best way to show dad that you've really put some thought and heart behind his gift. There are many Personalised Printing examples that you can use as the perfect gift such as framed prints, wall décor, calendars and stationery, as well as personalised accessories.
If you're unsure of what to get dad this year, then we've got some more great Personalised Printing examples to get you started.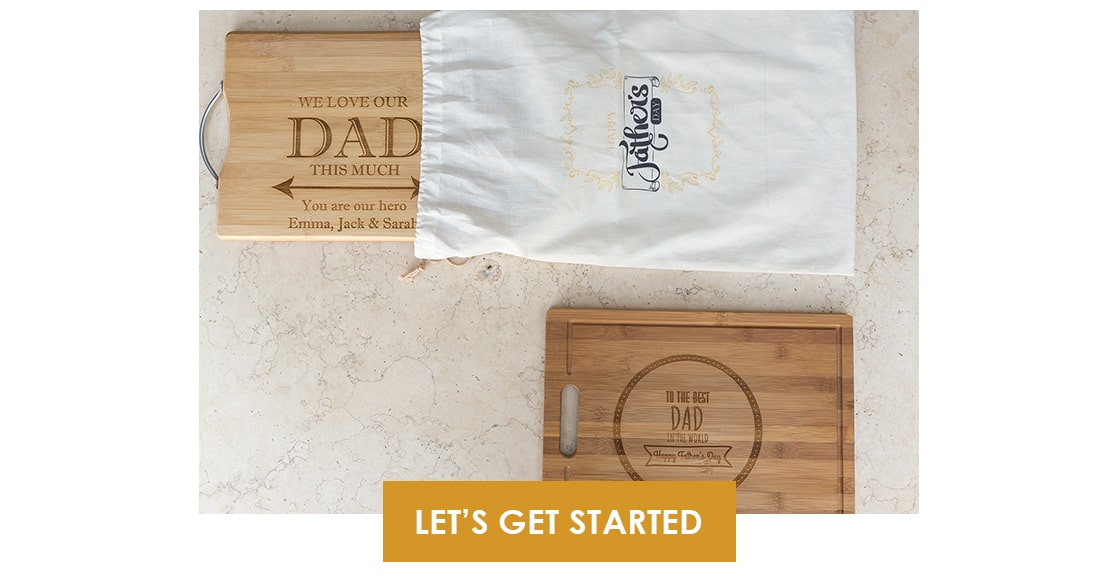 A photo book can be the perfect meaningful gift to show dad all your favourite photos of him. If you're looking for some photo book examples, we've got the best ones to get those creative juices flowing:
PERFECT TEN
Put together ten reasons why you love your dad using a collection of your favourite photos. Space the photos out in such a way that you can make little handwritten footnotes to make it extra special.
QUOTABLE DAD
Whether every word that comes out of your father's mouth is genius or just – without fail – uniquely "him", put together a book of classic Dad-isms. Make sure he'll find them funny, then illustrate each one with a fun photograph.
LIFE WITH THE BOYS
Your other half and his mini me are inseparable, and you've got plenty of photos to show for it. Design a photo book for your man with all the best photos of him and his little man to show your appreciation for the wonderful dad he is.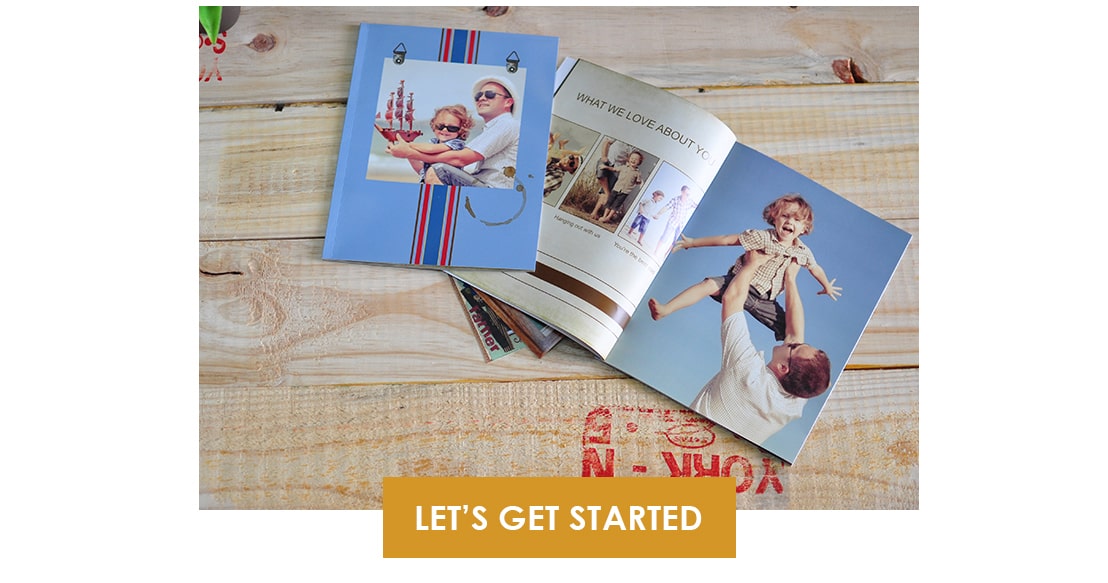 A canvas can be a great Father's Day gift, because you can really get creative with the layout and design. You can even get the kids involved and make a beautiful canvas of all your favourite photos. Not too sure where to start?
Here are some Canvas examples you can use to inspire you to create your own:
COLLAGE CANVAS
If you want to win his heart, a themed 'Fathers' collage template comes in first each and every time. Browse through all the digital photos stored in your family library and invite the kids to pick out the ones they love the best – the ones they think Dad would love to have included in a canvas collage.
This gift is sure to be the one he'll display in his office at work – that's where all his most treasured possessions end up.
GENERATIONS OF GIFTS FOR DAD
Here's a gift two dads and two sons will absolutely love, the ultimate 'three generations' photo on canvas.
Everyone loves a three generations photo and the boys are no different – so, get the rowdy gang together for three times the fun, then print the photos onto a canvas.
The even better bonus with this gift is that you can kill two birds with one stone. Print this same print twice and, on Father's Day, give one to Dad and one to Granddad!
A HOLIDAY AWAY
Take dad away on a holiday every day with a beautiful split image print of the view from his favourite destination. Does dad have a holiday house? Or simply a special place he loves to return to year in, year out?
This gift is about bringing a piece of that peace home for him to enjoy, no matter what time of the year it is.
Printing on a split image canvas is a wonderful way to magnify the natural beauty of a scene, so if you have access to some landscape photography of his home away from home, then that's the way to go.
This is a reminder of the fruits of his labour – well worth the effort in the end.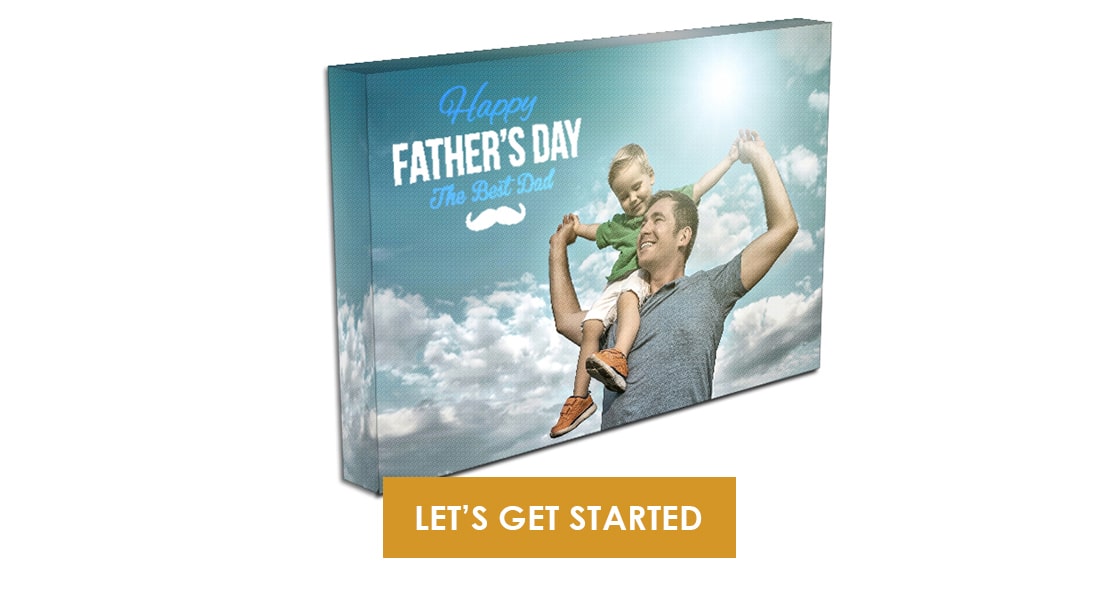 There are plenty of Photo Gift examples out there, such as chocolate wrappers, a hammer, personalised mousepad, magnet bottle openers, etc. But if you're fresh out of ideas, here are some more Photo Gift examples that might set you on the right track if you can't think of anything right now:
MAKE HIS DAYS A LITTLE WARMER
There's nothing better than watching your dad sip his first cup of coffee on a cold chilly winter's morning. And what better way to start his day off than using a personalised mug you specifically created for him? Not only is it a practical gift, but definitely one that carries a special reminder for him.
IF YOU LOVE IT ENOUGH – PUT IT ON A T-SHIRT
Get creative and tap into your funny bone to create a t-shirt that will describe your dad's personality perfectly. So, whether he has a favourite saying that he drops often and gets the classic eye-roll, or he just loves to braai – just put it on a shirt for him to show off, even if it may every day for the next few weeks.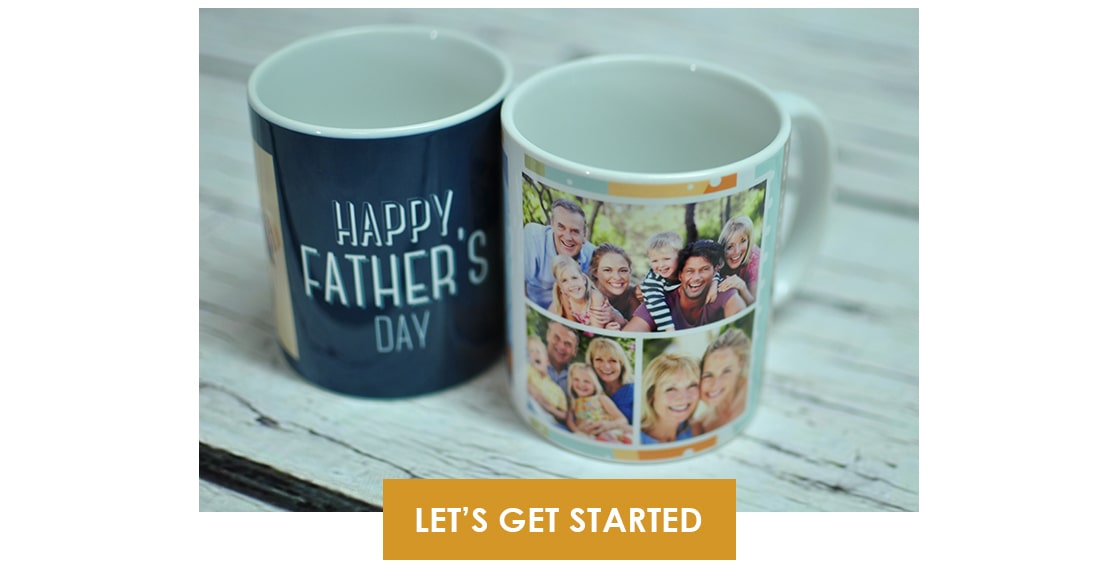 Ties, golf balls, and "Dad" coffee mugs are all cool Father's Day gifts. However, dads love gifts that their kids make. Yes, the lopsided mug made in art class at school and the popsicle stick picture frame without a doubt will put a smile on dad's face. Building on the DIY concept, for this Father's Day we found some great ideas for unique DIY gifts for dad that feature creative, yet easy photography.
WE HEART DADDY SHADOW PICTURE
Make a sign or series of signs with cut-outs of the words "We (or I) heart (using the heart symbol) Daddy!". Take a picture of the children holding the signs. To make this photo a bit different, instead of taking a photo of the actual kids, take a photo of the shadows of them holding the sign. Dad will be very impressed by this! Once you take your photo, use it to make a beautiful framed canvas print.

FOOT LOVE
There is something compelling about the little feet and the cute little toes of kids. Why not write "we love you, Dad" on the bottoms of your kids' feet and take a photo? Then print that same photo on a Travel Mug for dad to take with him to work every day and be reminded of this special Father's Day.

"I LOVE DADDY BECAUSE…"
I bet your kids can make a long list of reasons they love their dad. Pick 4 of these reasons and make signs. Take pictures of your kids holding one sign at a time. Combine the 4 photos into one print or a cluster canvas with the caption: "I Love Daddy Because…"

DADDY AND ME
Compile several photos and create a memorable photo book. Collect random photos or select a theme such as Father's Day photos throughout the years, sports themed photos, or photos of you and your dad, and put them all into a beautiful personalised photo book that he can page through for years to come.

PHOTO OF GENERATIONS
This unique idea involves a picture of grandad holding a picture of dad, holding a picture of your kid. The result is powerful and definitely one that will stand out.


As a great quote goes, "a father is neither an anchor to hold us back or a sail to take us there, but a guiding light who's love shows us the way". So, this Father's Day, make sure you wrap up something meaningful and show your dad the necessary appreciation he deserves in the best way possible – give him the gift of memories.